Nicholas F. Skinner: Retirement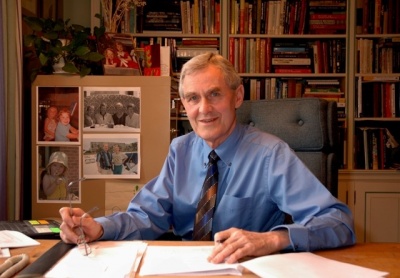 It is with some sadness that we farewell Dr. Nicholas F. Skinner, a constant presence through the life of SBP Journal! After 45 years of teaching and research in psychology, Dr. Skinner retired at the end of June 2017 from his position as Professor of Psychology King's University College at Western University, Canada.
Our connection with Dr. Skinner began with our very first issue, published in 1973, and has continued with a further 14 works published in SBP Journal over the years. We were also honored to receive Dr. Skinner's generous testimony to mark the journal's 40th anniversary in 2012, regarding his "unfailingly positive experience" with our journal.
Now, on the occasion of his retirement, it is our privilege to return the favor and say what a pleasure it has been to work with Dr. Skinner, ever professional and personable over these 45 years! Congratulations, Nick, on reaching this milestone, and thank you, from all of us at SBP Journal.
Dr. Skinner's backcatalog of articles published in our journal (listed below in chronological order) were available on our website via open access for the month of August 2017. We encourage you to read his insightful research on topics such as Machiavellianism, extraversion, and adaption–innovation.
Skinner, N. F. (1973). Effects of the multi-dimensional composition of extraversion on "faking bad" on the Eysenck Personality Inventory. Social Behavior and Personality: An international journal, 1, 29–32. https://doi.org/d4ksv6
Skinner, N. F. (1974). Personality characteristics of heavy smokers and abstainers as a function of perceived predispositions towards marijuana use. Social Behavior and Personality: An international journal, 2, 157–160. https://doi.org/ftgxm6
Skinner, N. F., Giokas, J., & Hornstein, H. (1976). Personality correlates of Machiavellianism: I. Consensual validation. Social Behavior and Personality: An international journal, 4, 273–276. https://doi.org/fr69kr
Skinner, N. F. (1981). Personality correlates of Machiavellianism: II. Machiavellianism and achievement motivation in business. Social Behavior and Personality: An international journal, 9, 155–158. https://doi.org/fv7szx
Skinner, N. F. (1982). Personality correlates of Machiavellianism: III. A simulation procedure for identifying high Machs. Social Behavior and Personality: An international journal, 10, 197–200. https://doi.org/brzwzs
Skinner, N. F. (1982). Personality correlates of Machiavellianism: IV. Machiavellianism and psychopathology. Social Behavior and Personality: An international journal, 10, 201–204. https://doi.org/d8xh3q
Skinner, N. F. (1983). Personality correlates of Machiavellianism: V. Machiavellianism, extraversion and toughmindedness in business. Social Behavior and Personality: An international journal, 11, 29–32. https://doi.org/fv2jgn
Skinner, N. F. (1988). Personality correlates of Machiavellianism: VI. Machiavellianism and the psychopath. Social Behavior and Personality: An international journal, 16, 33–38. https://doi.org/dfp5r7
Skinner, N. F. (1989). Behavioral implications of adaption-innovation: I. Managerial effectiveness as a function of sex differences in adaption-innovation. Social Behavior and Personality: An international journal, 17, 51–56. https://doi.org/dztk4c
Skinner, N. F. (1996). Behavioral implications of adaption-innovation: II. Adaption-innovation and motivation for uniqueness. Social Behavior and Personality: An international journal, 24, 231–234. https://doi.org/dx9qrx
Skinner, N. F., & Drake, J. (2003). Behavioral implications of adaption-innovation: III. Adaption-innovation, achievement motivation, and academic performance. Social Behavior and Personality: An international journal, 31, 101–106. https://doi.org/dr3sb5
Hutchinson, L., & Skinner, N. F. (2007). Self-awareness and cognitive style: Relationships among adaption-innovation, self-monitoring, and self-consciousness. Social Behavior and Personality: An international journal, 35, 551–560. https://doi.org/djqhdg
Skinner, N. F., & Iaboni, K. N. (2009). Personality implications of adaption-innovation: IV. Cognitive style as a predictor of marital success. Social Behavior and Personality: An international journal, 37, 1111–1116. https://doi.org/ch3xd3
Skinner, N. F., & Fox-Francoeur, C. (2010). Personality implications of adaption innovation: V. Birth order as a determinant of cognitive style . Social Behavior and Personality: An international journal, 38, 237–240. https://doi.org/bpbwqr
Skinner, N. F., & Fox-Francoeur, C. (2013). Personality implications of adaption-innovation: VI. Adaption-innovation as a predictor of disease proneness. Social Behavior and Personality: An international journal, 41, 223–228. https://doi.org/f4rbpf